| | | |
| --- | --- | --- |
| English!! Garden, plants: | Animals, insects in the garden: | Dutch dunes, countries: |
| | | |
| --- | --- | --- |
| | My Dutch garden. My holidays. | |

Nederlands / Dutch
A garden in Holland.
Welcome on the gardensite of Thijs de Graaf. A site about my hobby 'gardening' and 'photographing plants, insects and other animals'. ( tjdegraaf@gmail.com )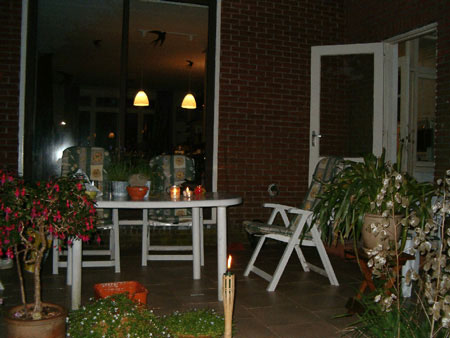 The pictures of my garden are from different seasons. Winter, spring, summer and autumn and have their own charm.

In "spring 2007" and "summer flowers" I describe many plants.
Also I have mentioned my house plants and euphorbia. On the page "garden" you can see pictures

of the front- and back garden.
In 2007, I have started to describe the animals in the garden. Many insects have their own page now. (butterflies,

damsel-dragonflies, flies,beetles, bugs, hoverflies 1 and 2, wasps and bees, spiders)

. And several subpages.




My holidays
I

also have made some pages about different holidays. I describe the landscape as much as possible. Of course I have made a choice. The first pictures of France are from a long time ago. But also the pictures of Ireland and Scotland I had to scan.

New 2017: Frankrijk, Provence
The dunes
| | | |
| --- | --- | --- |
| | In January 2009 I have made a start with a page about the dunes around here. | |

The first photos are taken with an hp photosmart 735, from 2007 with a hp photosmart R818, from 2008 a Fujifilm FinePix S9600 and from May 2010 a Sony digital camera DSLR-A450.
I wish you much joy!
Take also a look at my favourite
links.
Some photos I've taken on Flickr.
Nothing on this site may be reproduced or published without prior consent of the owner. So please send an e-mail. For non-commercial purposes, I always will give permission.
| | | |
| --- | --- | --- |
| English!! Garden, plants: | Animals, insects in the garden: | Dutch dunes, countries: |
All Subpages!!

August 2012.
The removal of our sick horse chestnut.

When we came back from our holiday to Australia ( on June 1) one of our chestnuts already lost all its leaves. There was no sap under the bark.
I have made a report of the removal of the tree on August 2, 2012.
Photo 5 June 2012: You can see the difference with the left chestnut and the chestnuts on the front of the house.