Nederlands:

English:

SloveniŽ, september 2019 / Slovenia, September 2019

Eerst twee dagen in een hotel bij Walchsee in Oostenrijk, daarna een week in een hotel bij Maribor in SloveniŽ en daarna in een stacaravan op een camping bij de kust bij Ankaran.

First two days in a hotel bij Walchsee in Austria, then a week in a hotel near Maribor in Slovenia and then in a mobile home at a campsite near the coast near Ankaran.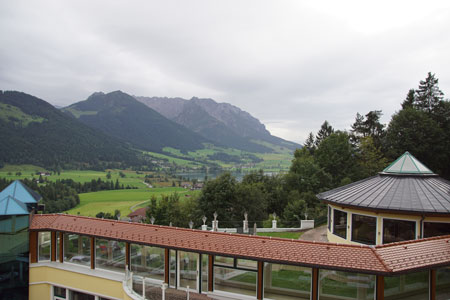 Hotel Panorama in Oostenrijk. Uitzicht vanaf het balkon op Walchsee. Een dorp met een meertje. Hotel Panorama in Austria. View from the balcony on Walchsee. A village with a small lake.
Hotel Habakuk. Uitzicht vanaf het balkon op Maribor. Hotel Habakuk. View from the balcony on Malibor.
Maribor.
Maribor heeft ongeveer 100.000 inwoners. Maribor has approximately 100,000 inhabitants.
...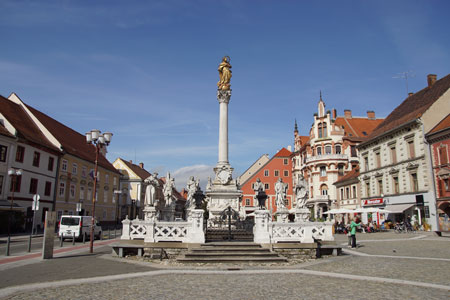 Glavni Trg of het Grote Plein met het stadhuis en een zuil met het beeld van Maria als herinnering aan de beŽindiging van een pestepidemie in 1681.

Glavni Trg or The Main square with the town hall and a column with the statue of Mary as a reminder of the end of a plague epidemic in 1681.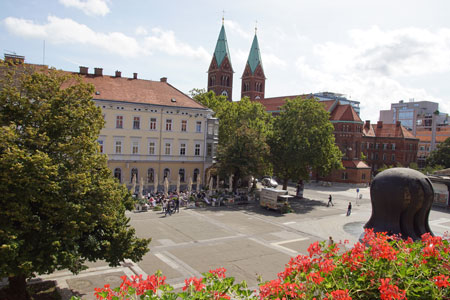 Trg Svobode plein gezien vanuit het Maribor stadskasteel met kerk (Bazilika Matere Usmiljenja) en het Nationale Vrijheids Monument. Trg Svobode square seen from the Maribor city castle with church (Bazilika Matere Usmiljenja) and the National Liberation Monument.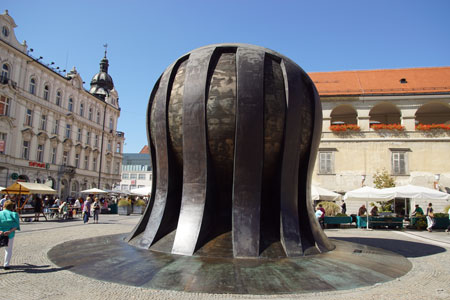 ...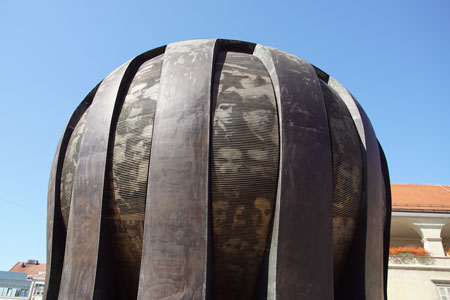 Het Nationale Vrijheids Monument. The National Lliberation Monument.
Een monument ter nagedachtenis van de 667 Slovenen, die waren geŽxecuteerd tijdens de tweede Wereldoorlog. Je ziet de gezichten op het monument. Heel indrukwekkend.

A memorial to the 667 Slovenians who were executed during the Second World War. You see the faces on the monument. Very impressive.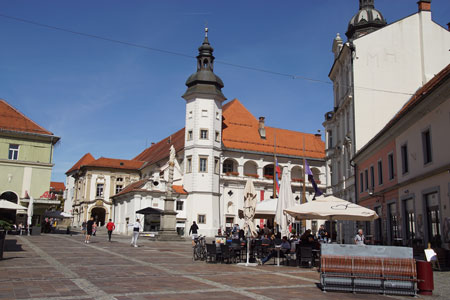 ...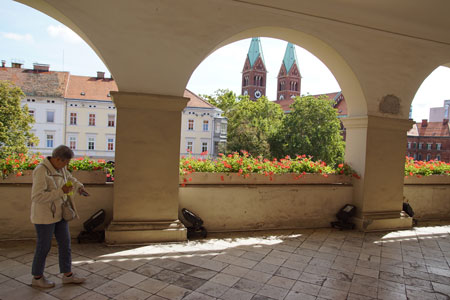 ...

.

.

.

Maribor stadskasteel. Maribor city castle.
Het werd gebouwd door Frederik III in 1478-1483 om de stadsmuren te versterken vanwege de dreigende Turkse aanvallen. Nu is het een museum met voorwerpen uit de prehistorie, kunst, voorwerpen uit verschillende tijdperken. Heel verrassend.

It was built by Friderik III in 1478-1483 to strengthen the town's walls because of the threatening Turkish attacks. Now it is a museum with objects from prehistory, art, objects from different eras. Very surprising.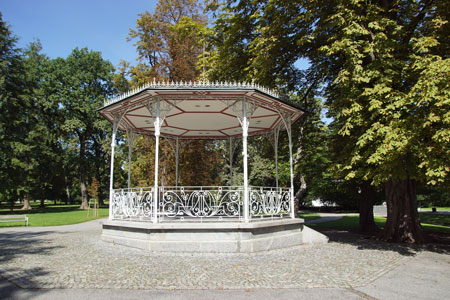 Maribor Mestni park Maribor City Park. Een groot stadspark, dat doorloopt naar wijngaarden. A large park that extends to vineyards.
...

.

Maribor kathedraal gewijd aan Sint Johannes de Doper. Maribor Cathedral dedicated to Saint John the Baptist.
Pohorska kabelbaan. Pohorska Vzpenjača Cable Car.
Vlakbij het hotel is een kabelbaan. 's winters voor de skiŽrs. 's Zomers kun je daar wandelen en met de mountainbike weer naar beneden gaan (niets voor ons)

There is a cable car close to the hotel. in winter for the skiers. In the summer you can walk there and go down again by mountain bike (nothing for us)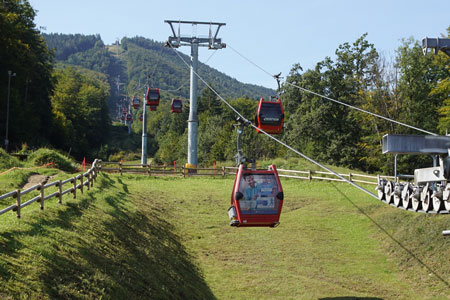 ...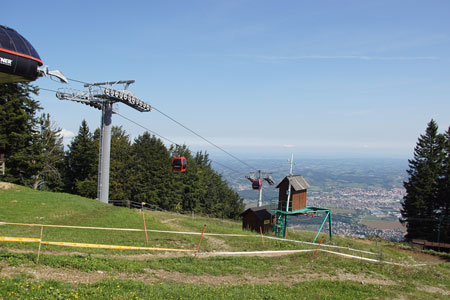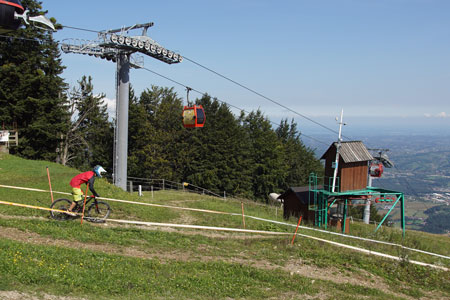 ...
Ptuj.
Een oud stadje ongeveer 20 km van Maribor aan de rivier de Drava. Vanaf het centum zijn we naar de rivier gewandeld, waar je een Dominicaans klooster ziet met op de berg het kasteel van Ptuj met een regionaal museum.
An old town about 20 km from Maribor on the river Drava. From the center we walked to the river, where you see a Dominican monastery with on the mountain the castle of Ptuj with a regional museum.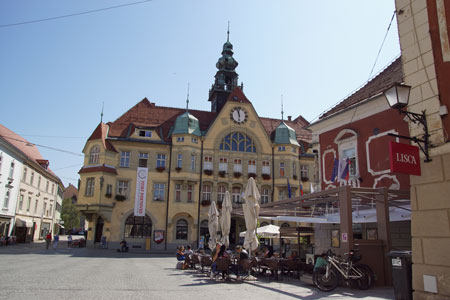 ...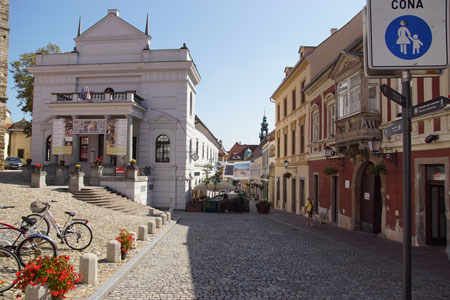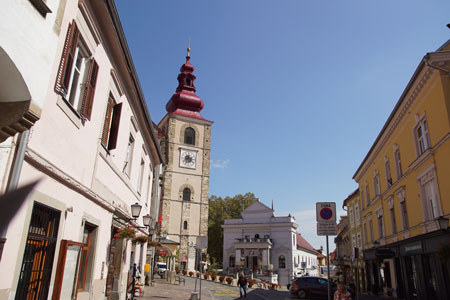 ...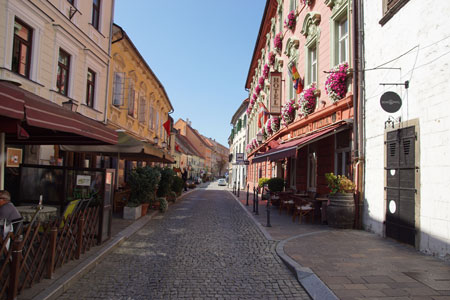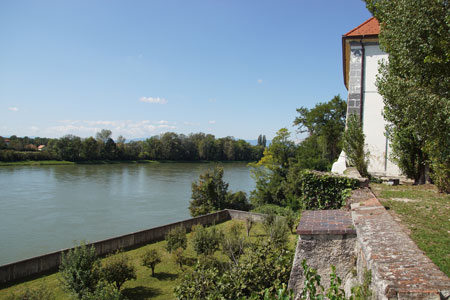 ...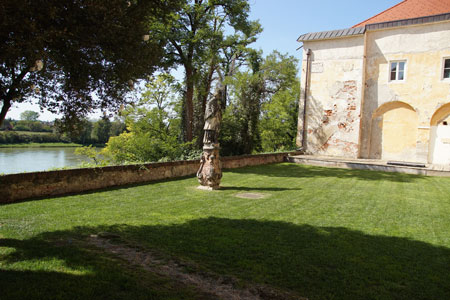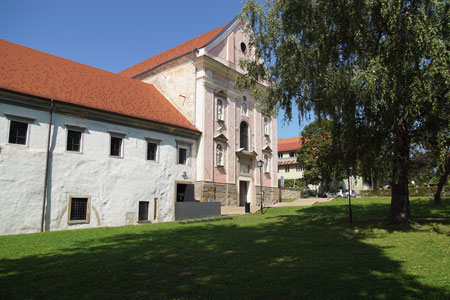 ...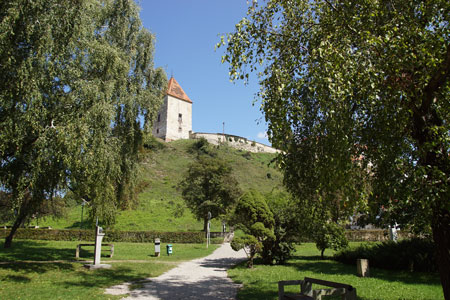 Technisch Museum van Slovenia in de buurt van Ljubljana. Technical Museum of Slovenia in the neighbourhood of Ljubljana.
Op weg naar de camping bij de kust hadden we meer dan een uur in de file gestaan (grote kettingbotsing). We wilden daarna toch nog iets bekijken en zijn naar dit museum gereden, terwijl we er verder niets van wisten. We hebben er geen spijt van gehad. We hebben lang niet alles bekeken. In een van de gebouwen staan nog auto's van Tito. Een aanrader!
On the way to the campsite near the coast we had been in a traffic jam for more than an hour (large chain collision). After that we still wanted to see something and drove to this museum, while we knew nothing else about it. We have not regretted it. We haven't viewed everything. In one of the buildings are cars of Tito. Recommended!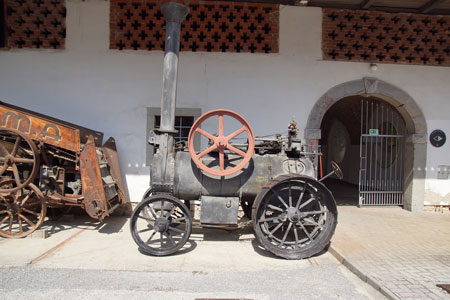 ...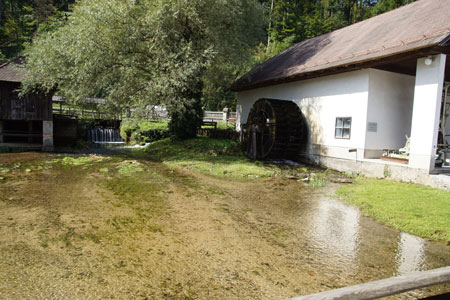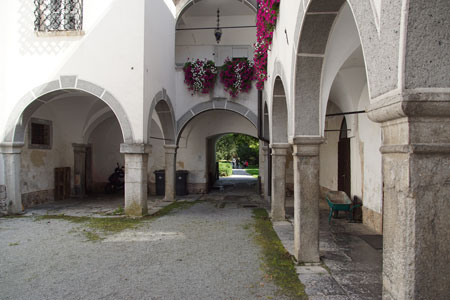 ...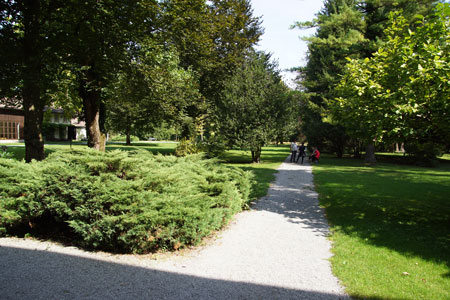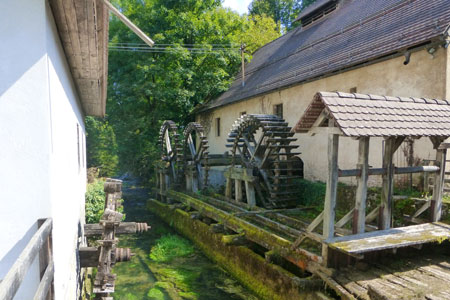 ...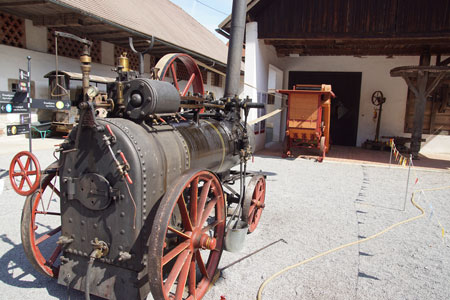 Camping Adria in Ankaran.
Onze stacaravan stond achter deze stacaravans. Geen geweldige plek, maar omdat het buiten seizoen rustig is, was dat geen groot probleem. Een paar foto's van de natuur buiten de camping.

Our mobile home was behind these mobile homes. Not a great place, but because it is quiet out of season, that wasn't a big problem. Some photos of nature outside the camping.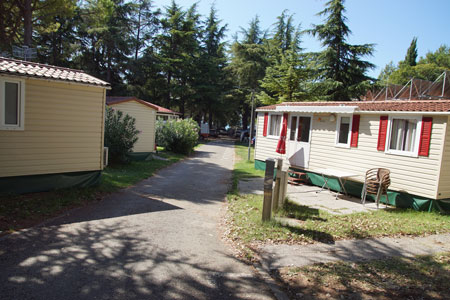 ...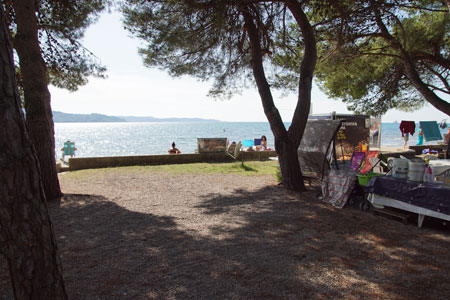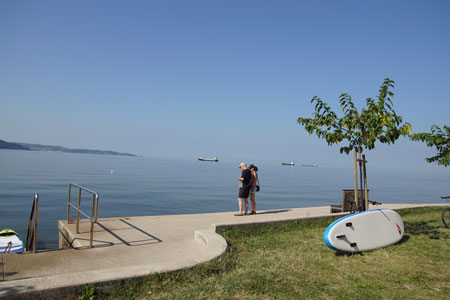 ...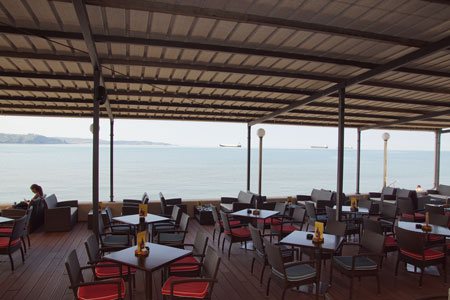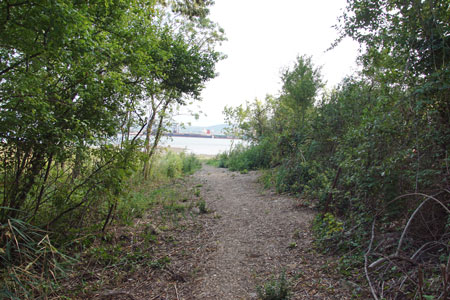 ...
...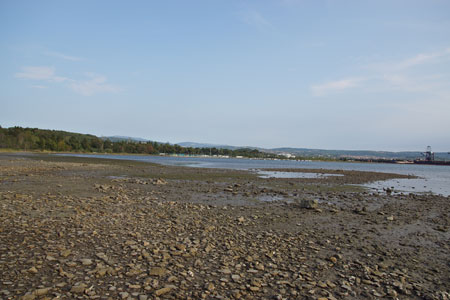 Koper.
Vanaf de camping zie je de haven van Koper. Maar Koper heeft ook een oud centrum, waar je door smalle straatjes naar toe wandelt. De haven is dichtbij het centrum.

You can see the port of Koper from the campsite. But Koper also has an old center, where you can walk through narrow streets. The port is close to the center.
...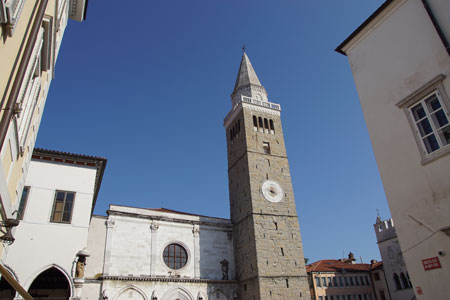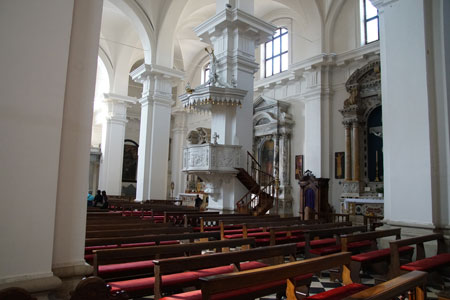 ...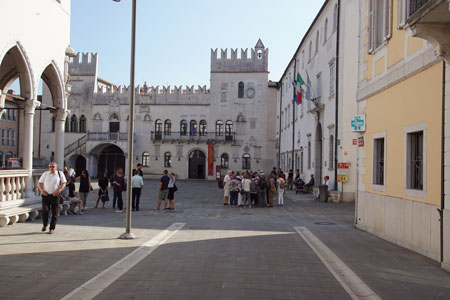 ...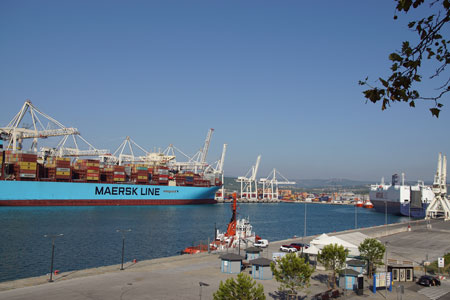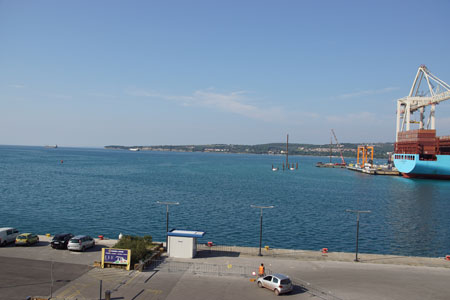 ...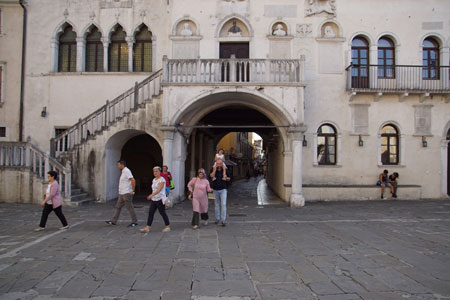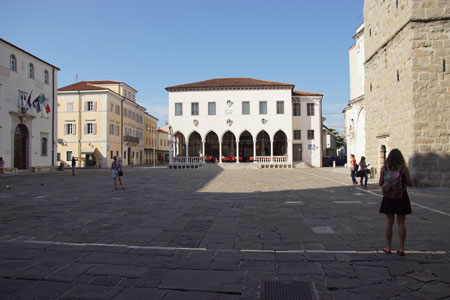 ...
Piran.
Een havenstadje. De auto kun je het beste in een parkeergarage (garage Fornace) zetten aan de buitenkant van de stad. Je rijdt er aan de bovenkant in en stap beneden uit. Je komt dan bij de boulevard aan zee met een enorm, heel lelijk hotel. Langs de boulevard kun je naar de stad lopen. Maar er rijden ook gratis bussen. Het is erg toeristisch. Er zijn ook enkele musea.
A harbor town. The car is best placed in a parking garage (garage Fornace) on the outside of the city. You drive in at the top and get out at the bottom. You then arrive at the seafront with a huge, very ugly hotel. You can walk to the city along the boulevard. But there are also free buses. It is very touristy. There are also some museums.
Hotel vlakbij de garage. Hotel near the garage.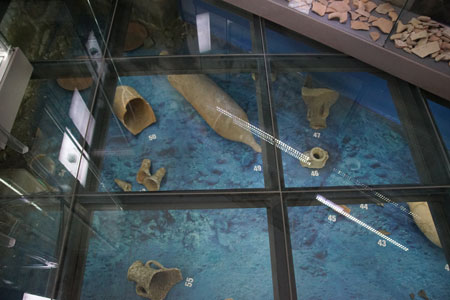 ...
...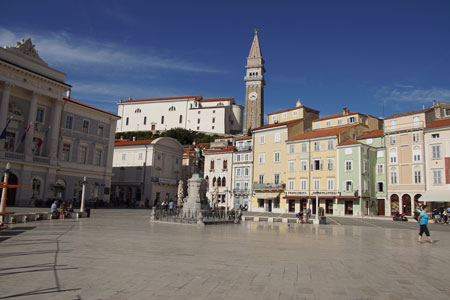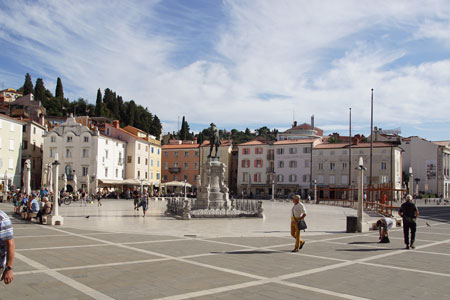 ...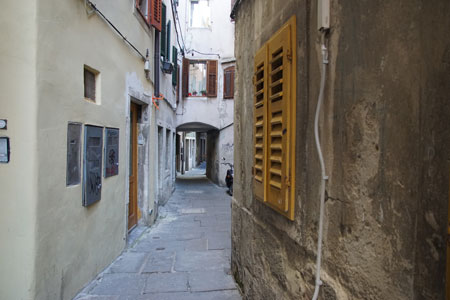 ...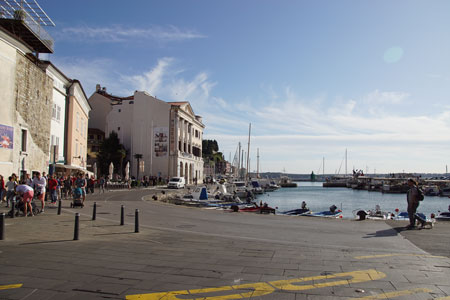 Kasteel Predjama (Grad Predjama), Predjama castle.
Een burcht uit de 12e eeuw (grootste deel is uit de 16e eeuw) in de ingang van een grot in een bergwand op 123 meter hoogte. Vanaf de camping ongeveer een uur rijden richting Ljubljana. Het kasteel ligt in de buurt van de beroemde grotten van Postojna. Daar waren we al eens geweest. Daarom kozen we voor het kasteel.

A castle from the 12th century (most of it from the 16th century) in the entrance of a cave in a mountainside at an altitude of 123 meters. Approximately an hour's drive from the campsite to Ljubljana. The castle is near the famous Postojna caves. We had already been there once. That's why we chose the castle.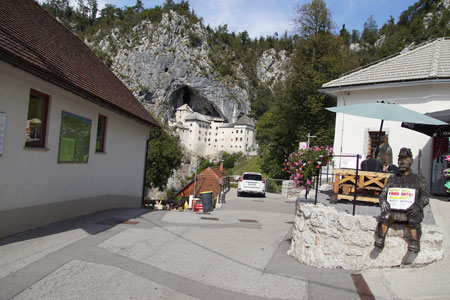 ...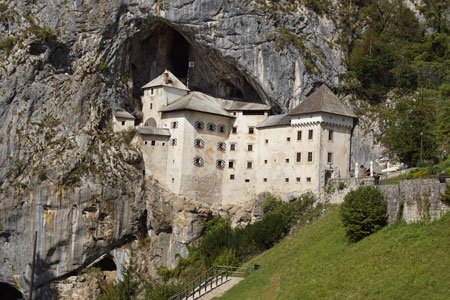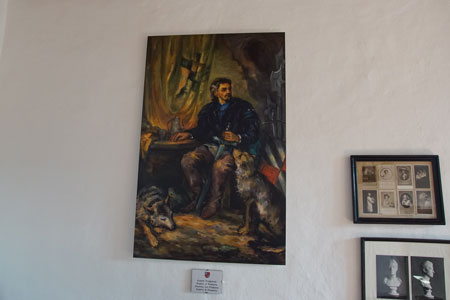 Een schilderij van Erasmus. A painting of Erasmus.
Erasmus Lueger was een 15e-eeuwse Robin Hood, die van de rijken stal om aan de armen te geven. Hij steunde de Hongaren tijdens de oorlog met de Oostenrijkers. In 1484 belegerde het Oostenrijkse leger het kasteel, maar het bleek onneembaar.

Erasmus Lueger was a 15th-century Robin Hood, who stole from the rich to give to the poor. He supported the Hungarians during the war with the Austrians. In 1484 the Austrian army besieged the castle, but it proved impregnable.
...
...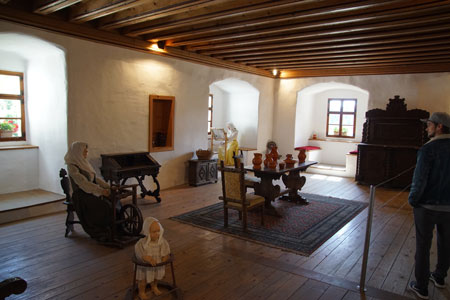 ...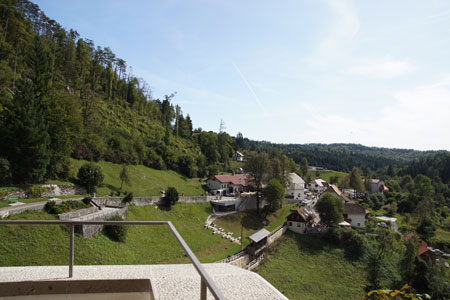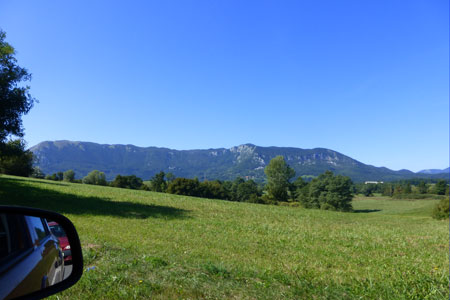 Uitzicht vanuit de auto op de terugweg. View from the car on the way back.

Subpagina AustraliŽ: Hongkong Subpage Australia: Hong Kong
Subpagina Frankrijk: Insecten Frankrijk Subpage France: Insects France