Nederlands:
English:
Atalanta, meer foto's / more photos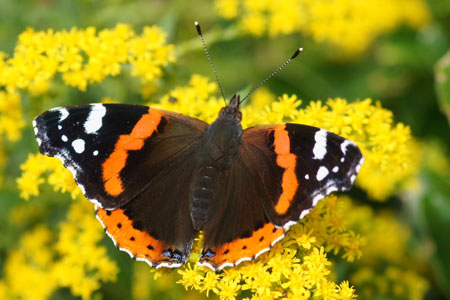 Atalanta (Vanessa atalanta). Familie Nymphalidae.

Het is een trekvlinder. In april komen de eerste vlinders in onze tuinen. Ze leggen in mei juni eieren. In juli vliegt de volgende generatie door onze tuin.
Hij houdt ook wel van rottend fruit heb ik gemerkt. De meesjes pikken gaatjes in de pruimen. Daarna verschijnen de Atalanta's. Als je er zelf een eet komen ze soms op je hand zitten.
Deze foto's heb ik toen ik pas met mijn website begon met mijn oude kamera gemaakt.
Atlanta, Red Admiral (Vanessa atalanta). Family Nymphalidae.

It is a migratory butterfly found in temperate Europe, Asia and North America. The species is resident only in warmer areas, but migrates north in spring, and sometimes again in autumn. In April the first butterflies arrive in Holland.
They lay eggs in May June. In July the next generation flies in our garden.
It loves also rot fruit I 've seen the titmouses peck holes in the plums. Afterwards the Atalantas appear. When I am eating a plum, sometimes an atalanta sits on my hand.
These photos I've taken with my old camera when I just started with my website.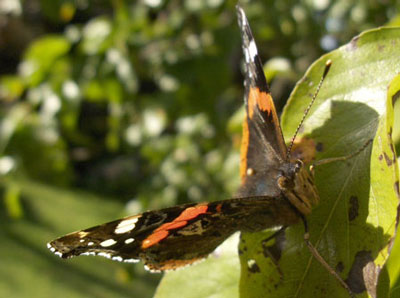 ..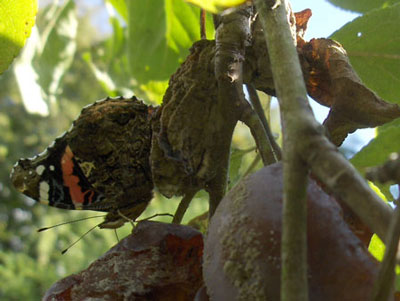 .
Subpagina vlinders:

Dagvlinders Uilen, noctuidae Spanners, geometridae Bladrollers, torticidae Pyralidae, Crambidae Sikkelmotten, Oecophoridae
Subpage butterflies:
Butterflies Owlet moths Geometer moths Leafrollers, tortrix moths Pyralidae, Crambidae Concealer moths